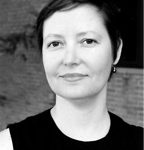 Nicole King is an associate professor and chair of the Department of American Studies, an affiliate assistant professor in the Language, Literacy, and Culture doctoral program, and director of the Orser Center for the Study of Place, Community, and Culture at UMBC.
She received her PhD in American studies from the University of Maryland, College Park in 2008 and a MA in comparative literature and cultural studies from the University of New Mexico in 2001. Her research and teaching interests focus on issues of place, power, and economic development. King's scholarship analyzes changes to the social and built environment during the rise of consumer culture in the twentieth century—such as the development of vernacular landscapes of tourism in the U.S. South and the decline of industrial neighborhoods in Baltimore.
Her book, Sombreros and Motorcycles in a Newer South: The Politics of Aesthetics in South Carolina's Tourism Industry (University Press of Mississippi in 2012) explores how the South Carolina roadside tourist attraction South of the Border, home of the world's largest sombrero, and the historically black resort town of Atlantic Beach, South Carolina, the host of a controversial motorcycle festival for African Americans, foreground the connections between place, politics, and aesthetics during the rise of consumer culture and the period of desegregation. Her work on tourism in the US South is also published in the edited collection, Dixie Emporium: Tourism, Foodways, and Consumer Culture in the American South (University of Georgia Press, 2008) and South Writ Large. Her research on deindustrialization in Baltimore has been published in the Journal of Urban History (2014) and the edited collection, Engaging Heritage, Engaging Communities (Boydell & Brewer, 2017). King is currently co-editing Baltimore Revisited: Rethinking and Remaking a Right to the City, a collection of articles on Baltimore's social history for Rutgers University Press.
King's current research and teaching include the Baltimore Traces: Communities in Transition project, where students research historic places in downtown Baltimore and complete oral history interviews focused on preserving the opinions of those who live, work, and play downtown. A Hrabowski Innovation Grant funded the initial development of the Baltimore Traces project. Students have produced various radio series on Baltimore social issues that have aired on local public radio stations.
King's research and teaching is based on the belief that looking and listening to a place can be a transformative act.