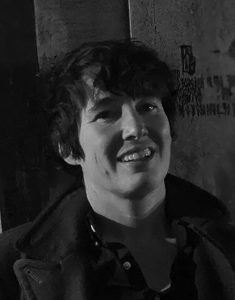 Sarah Fouts is an Assistant Professor in the Department of American Studies, director of the Public Humanities Minor program, and affiliate professor in the Language, Literacy, and Culture doctoral program.  Fouts's research interests include political economy, food studies, New Orleans, Honduras, ethnography, labor studies, and community engagement.
Fouts is a 2022-2023 Whiting Public Engagement Fellow for the collaborative New Orleans-based work, "Project Neutral Grounds: At theIntersection of People, Food, and the Hustle." Fouts is the principal investigator for the 2022-2023 ACLS Sustaining Public Engagement funded project entitled, "Baltimore Field School 2.0: Undoing and Doing Anew in Public Humanities." Each project is focused on process and incorporates approaches that move away from extractive qualitative research models to build collaborative humanities projects developed with community partners.
Currently, Fouts is working on a book manuscript with UNC Press which uses ethnographic and archival research to analyze the stories of Central American and Mexican food industry workers and day laborers in post-Katrina New Orleans. Fouts shows how despite being criminalized and pitted against other low wage workers, immigrants use strategies of self-reliance and multiracial solidarities to fight against extractive models of development in New Orleans and Honduras.
Fouts's research includes public humanities projects with the Southern Food and Beverage Museum, the Southern Foodways Alliance, and the New Orleans Workers' Center for Racial Justice (NOWCRJ) New Orleans Black Workers Organize labor history timeline. From 2017-2019, Fouts produced and edited the series "Latinx Foodways in North America" for the Society for the Anthropology of Food and Nutrition. Fouts is also an op-ed contributor for the New York Times and contributes articles to NACLA and Gravy magazine.
Education
PhD, Latin American Studies, Tulane University
MS, Urban Studies, University of New Orleans
BA, History and Spanish, Centre College
Selected Publications
"The Great Unbuilding: Land, Labor, and Dispossession in New Orleans and Honduras." co-authored with Deniz Daser. Southern Cultures 27, no. 2 (July 5, 2021): 110–25.
"When 'Doing With' Can Be Without: Employing Critical Service Learning Strategies in Creating the 'New Orleans Black Worker Organizing History' Digital Timeline." Journal of Community Engagement and Higher Education. 12(1): 29-38.
"Re-Regulating Loncheras, Food Trucks, and their Clientele: Navigating Bureaucracy and Enforcement in New Orleans." Gastronomica: The Journal of Critical Food Studies, Fall 2018, 1-13.
"Informed Gatekeepers and Transnational Violence: Using Perceptions of Safety of Latino/a Youth in Determining Immigration Cases." co-authored with Clare Cannon and Miranda Stramel. Hispanic Journal of Behavioral Sciences, May 2018, 40(2): 134-149. 
"The Mafia, La Raza, and the Spanish-Language Press Coverage of the 1891 Lynchings in New Orleans." Journal of Southern History. August 2017. 83(3): 509-530.
"Presumed Palettes and the Problems Perceived: Exploring Latin American Food and Food Establishments in the United States and New Orleans." Race, Gender, and Class. 2011, 18(3-4): 316-328.