Born and raised in the American South, Shenita Denson developed a love for people, culture, spaces, the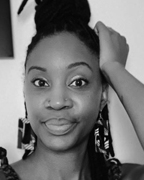 arts, oral storytelling + food for the soul. Through her doctoral program in the Language, Literacy and Culture Department at the University of Maryland Baltimore County (UMBC), she is researching the process of unlearning the stories we (or others) tell about ourselves and how that process can serve as an empowerment tool to create and re-frame our self-narratives. Additionally, Shenita is exploring how sharing our self-narratives allows us to cope, be resilient, counter societal master narratives and dismantle generational barriers caused from silenced stories.
An advocate for the power of voice, Shenita also creates diverse and engaging experiences, tools, spaces and workshops that allows transformative conversations to take place. Shenita is also a lecturer and has taught courses in Active Citizenship and Service Learning, Public Speaking, Interpersonal Communication, and First-Year Writing.
Passionate about service, Shenita currently serves as the 2018-2020 Public Relations Co-Chair for the National Communication Association's African-American Communication and Culture Division and Black Caucus groups. She is also the First Vice-President of the Black Graduate Student Organization at UMBC.
Education
PhD Student, Literacy, Language, and Culture, University of Maryland Baltimore County
MA, Organizational Communication and Public Affairs, Bowie State University
Courses
AMST 300: Approaches in American Studies